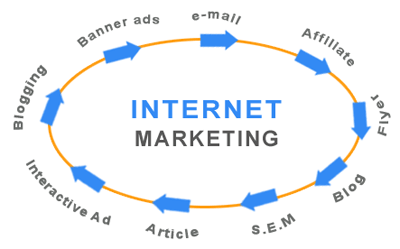 What is Online Marketing?
We all know that Online Marketing is a set of marketing strategies and methods that helps businesses become more successful online. But besides the strategies and tactics, Online Marketing is also an exchange of value between you and your customers.
Lot of people who are new to Internet Marketing (IM) ask what do they share that are valuable to their customers?
Well, here are 4 things that you already have that are extremely valuable to your customers.
You have the knowledge.

You have the time.

You have the experience.

And finally, you have all the necessary skills required to get things done.
In this sense, Internet Marketing is an exchange of value or simply a transaction.
So if IM is a transaction, you may want to lean 'what value does your customer offer to you?'
Whenever we think of a customer's value we often think of money, don't we? Yes, we do, but beyond money, your customers also offer other types of value to you.
For example, your customers will offer you value in ways such as:
Giving you time and attention

Giving you the trust

Talking/referring about you to their friends

Sharing your business ideas and their contacts with you.
So you see, in addition to money, all of these things will be valuable to you and your business.
But most people believe that they do not have anything of value to sell to their customers. They think they do not have a great product or service and all sorts of things that stifle their success.
Instead of trying to sell products, ask yourself – "what are all the valuable solutions I have to offer that will solve problems my customers have or might face in the future?"
Feeling stuck? Well, here are Online Marketing ideas that will give you more for what you offer:
#1: Offer solutions that help save money
People are always looking for a 'good' deal. Good deals are not only affordable, but they also offer optimal solutions to customer's problems.
An 'Affordable' solution doesn't mean 'cheap' solutions though.
If your product saves your customer's problems, they won't need to spend additional money to buy other products. Thus, they'll save a lot of money instead of trying every other product from the market.
#2: Offer solutions that will save their time
People are becoming busier than ever before. Time is precious and once it is gone it cannot be replaced. Try to offer solutions that will save your customer's time.
#3: Offer solutions that will better their lives
10 years ago, Apple only offered laptops and desktop computers. But today, they have a whole bunch of products (tablets, iPhones, iPods, iPads, Smartphones, etc) that are designed to improve their user's experience by number of ways.
Laptops and desktop computers were heavy, cumbersome, and requires a lot more space and most users only wanted to surf the Internet, send email, and type small messages.
They isolated the weaknesses of Laptop and desktop computers, corrected it, and improved it and came up with alternate devices (mentioned above) that was easier to make and simpler to use.
Just like Apple, you can also take steps to offer products that will improve your customer experience.
#4: Offer solutions that will minimize their efforts.
People want to accomplish a lot with less amount of work. So what tools or shortcuts can you offer to your customers that will help increase the productivity, avoid mistakes, and at the same time achieve massive results with little amount of work?
Follow these online marketing strategies to offer simpler, better, and productive solutions that adds value to your customer's life.
https://getyoursiterank.com/wp-content/uploads/2015/02/Online-Marketing-Marketing-that-Gives-You-More-For-What-You-Offer.gif
249
400
Online Ion
https://getyoursiterank.com/wp-content/uploads/2016/09/logo.png
Online Ion
2015-02-25 12:54:22
2016-07-02 09:26:23
Online Marketing - Marketing that Gives You More For What You Offer